Laura's Naturally Sweet Blog
Psssst...............looking for naturally sweet, healthy, deliciously moreish cakes? You've come to the right place!
Cherry Cheesecake Pancakes
These fruity, delectable, luxurious pancakes will definitely be the highlight of any breakfast or dinner table this pancake day!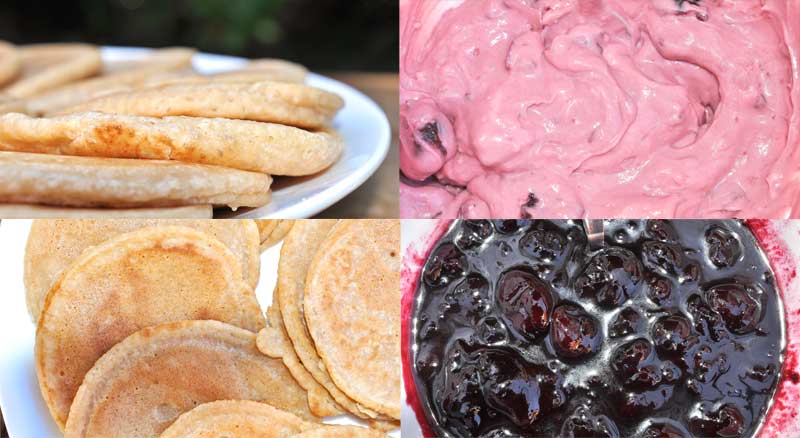 They are, without a doubt, absolutely heavenly! Originally I had the idea for them whilst making the (also irresistible) Hawaiian Macadamia Nut and Banana Pancakes. I rushed to my calendar to check the date for Pancake Day this year and I couldn't believe how late it was! Initially I was, of course, super disappointed until I realised that it gave me ample opportunity to try these pancakes out.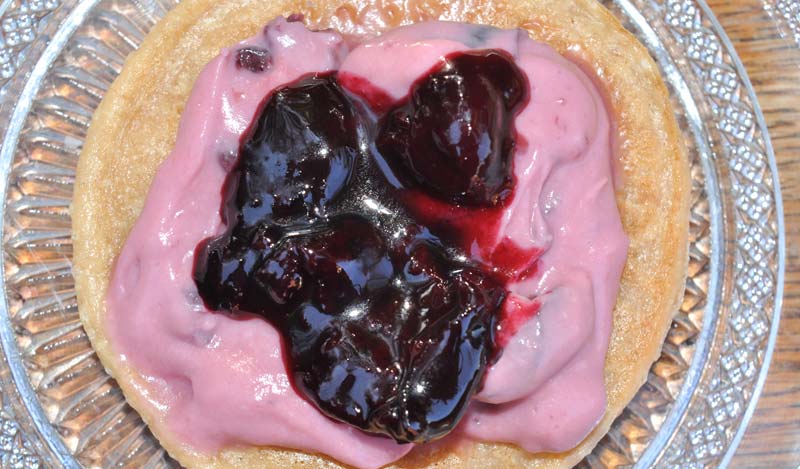 I determined in that moment that I would try them out as many times as necessary to make sure that they were the best Cherry Cheesecake Pancakes that they could possibly be!!! ;)
I always link pancakes and cherry compote together in my mind. When I was young we would sometimes visit the Little Chef when we travelled long distances and their pancake with cherry compote was my Mum's favourite. It stood out with the little square of ice cream and dark cherry filling. One year we went to my Grandmother's for Pancake Day and she bought some cherry compote for the filling, as well as the traditional sugar and lemon, and everyone loved it.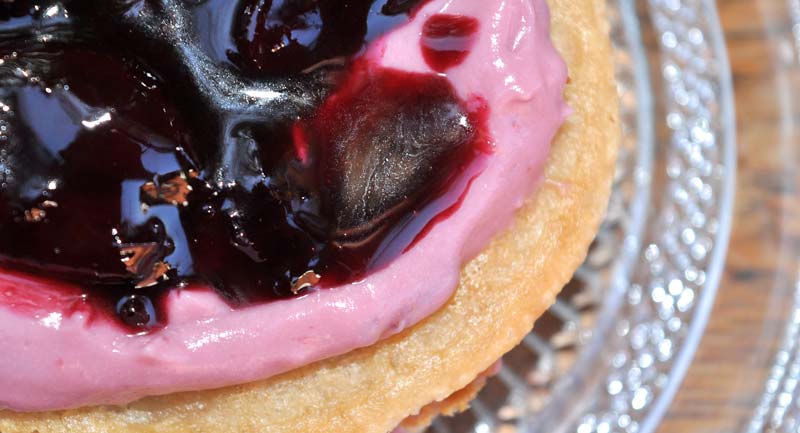 This cherry compote is super easy to make and you can serve to hot or cold with or without the cherry cheesecake and it's perfect every time.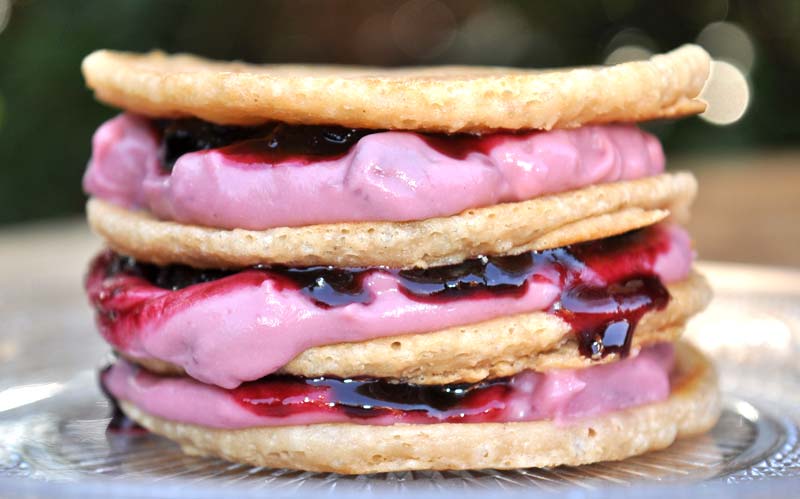 You know I can't resist the divine taste of Dalfour's Black Cherry jam – of all their delectable flavours this one has always been my absolute favourite. It's so awesome here because, when combined with the non-dairy cream cheese, it makes an almost instantaneous, sweet fruity and delicious filling for your pancakes.
The little bit of cream cheese in the pancake mix just adds the perfect sweet cheesecake flavour – once tried they truly are impossible to resist.
So pull out your aprons, the blender and the frying pan and call your hungry family in!
Cherry Cheesecake Pancakes
Prep Time: 15 mins Cook Time: 15 mins
Makes: 20 -26 Small Pancakes
Ingredients:
Cheesecake Pancakes:
½ Cup Cashew Nut Butter
½ Cup Tapioca Flour
½ Cup Rice Flour
1 Cup Non-Dairy Milk
¼ Cup Non-Dairy Cream Cheese (I used Violife)
2 tbsps. Maple Syrup
½ tsp. Powdered Vanilla
1 tsp. Baking Powder
Coconut Oil for frying
Cherry Cheesecake Filling:
1 Cup Non-Dairy Cream Cheese (I used Violife)
½ Cup Dalfour Cherry Jam
Cherry Compote:
2 Cups Frozen Cherries
2 tbsps. Apple Concentrate
1 tbsps Arrowroot Powder
Instructions:
Cheesecake Pancakes:
1) Blend together all the ingredients for the pancakes until completely smooth. Set on one side to rest for 15 mins.
2) Heat 1 tbsps. coconut oil in a frying pan. Spoon in about 2 tbsp. of the pancake mix for each pancake. They will start to bubble around the edge turn and fry each side until a light golden brown. I did mine is batches of four. Serve directly or place in a low oven to keep warm.
3) Serve with Cherry Cheesecake filling and Cherry Compote – instructions below.
Cherry Cheesecake Filling:
4) In a bowl mix together the cream cheese and cherry jam until thoroughly combined.
Cherry Compote:
5) In a saucepan combine the cherries and the apple concentrate and place on a medium/high heat for 10 mins – make sure you stir it from time to time to stop the fruit sticking and to make sure it doesn't boil over.
6) Add the arrowroot and heat on a low heat for a further 5 mins. Set aside to cool.